BootBurn INTENSIVE
A powerful fat-burning drink with green coffee extract.
Helps facilitate fat burning and increase vitality.
30-Day Money-Back Guarantee
Buy
Try
Return
Money back
If for any reason you are not completely satisfied, simply return the empty package and get a full refund.
Contents: 15 sachets for 15 days
BootBurn INTENSIVE uses the power of green coffee extract to help you burn more fat.[2] BootBurn INTENSIVE helps accelerate the use of stored fats in the body.
Studies show BootBurn INTENSIVE:
helps stimulate the use of stored fat as the primary source of energy
can burn up to 5.7% more fat,
helps improve the weight ratio between muscles and fat
helps reduce the absorption of sugars
can increase vitality
PROVEN TO IMPROVE WEIGHT-LOSS EFFORTS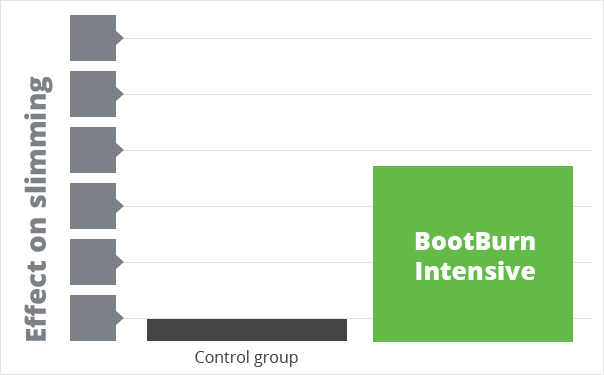 A French innovation that helps prevent the body from using sugar as the first source of energy and instead use stored fats first. It naturally raises the body's internal temperature so it burns more fat[1]:
It helps decrease the absorption of sugar in the intestine and the use of sugar from food.
It's designed to prevent the body from using the sugar stock (glucose) that is stored in the liver and muscles (in the form of glycogen) for energy and encourages it to use fat instead.
Burn fat whilst sitting, watching TV and relaxing
A combination of exclusive ingredients to help on your weight-loss journey: helps speed up the burning of fat
can improve the weight ratio between muscles and fats designed to accelerate the use of stored fats in the body
helps increases vitality of the body
A COMPLETE WEIGHT-LOSS AID
Get the results you want with help of BootBurn INTENSIVE!
The unique combination of kola seed extract with natural caffeine, green coffee extract, ginger extract and vitamin B3 boosts weight-loss efforts.
BootBurn INTENSIVE can accelerate fat burning, is designed to maximise digestion and helps maintain adequate levels of blood sugar, which helps keep energy levels up!
At the same time, it helps increases vitality and can reduces the feeling of fatigue.
Contents: 15 sachets for 15 days
Food supplement with sweetener
Ingredients:
Bulking agent: corn dextrin, kola seed extract with 10% caffeine, green coffee bean extract with 45-50% total chlorogenic acids and 2% caffeine, peach flavour, acidity regulator: citric acid, ginger root extract with 5% gingerols, nicotinamide, anti-caking agent: rice concentrate, sweetener: sucralose.
Use:
The recommended daily dose is 1 sachet dissolved in a glass of water after a meal of your choice.
Warning:
If you are hypersensitive or allergic to any of the product ingredients or use medication, consult your doctor before use. This product is not recommended for pregnant or breastfeeding women.
Important:
The recommended daily intake should not be exceeded. Food supplements should not be used as a substitute for a varied, balanced diet and a healthy lifestyle, which are important.
Storage:
Keep out of the reach of children! Store in a cool, dry place at temperatures below 25°C.
NET WEIGHT: 45 g
Clinical Studies:
1. R. Hursel, W. Viechtbauer, M. S. Westerterp-Plantenga. (2009). The effects of green tea on weight loss and weight maintenance: a meta-analysis. International Journal of Obesity (2009) 33, 956–961. Available at: https://www.nature.com/ijo/journal/v33/n9/full/ijo2009135a.html
2. E. M. R. Kovacs, M. P. G. M. Lejeune, I. Nijs, M. S. Westerterp-Plantenga. (2004). Effects of green tea on weight maintenance after body-weight loss. British Journal of Nutrition, 91, 431–437. Available at: https://www.cambridge.org/core/services/aop-cambridge-core/content/view/S000711450400056X
3. Onakpoya I, Terry R, Ernest E. (2011). The use of green coffee extract as a weight loss supplement. A systemic review and meta-analysis of randomised clinical trials. Gastroenterol Res Pract. 2011;2011. Pii: 382852. Available at: https://www.ncbi.nlm.nih.gov/pmc/articles/PMC2943088/