NightBurn XXL OLD
Fat-burning drink for amplified results!
The strongest ally if you're trying to lose weight with intermittent fasting!
Helps suppress late-night cravings and keep calories from turning into fat
Designed to give the metabolism a boost and keep the liver in shape
No caffeine to disturb your sleep
100% Guarantee!
Each body is different. If you don't love this product as much as our customers do, you'll get a full refund.
All our products come with a 100% money-back guarantee, which means that if after completing the course of the product, you do not see any visible results, we will give you a full refund.

Please do not throw away empty boxes or receipts as they're important for the reclamation process. Read more here.
30-Day Money-Back Guarantee
Buy
Try
Return
Money back
If for any reason you are not completely satisfied, simply return the empty package and get a full refund.
Contents: 10 sachets for 10 nights
GET A 52-PAGE SLIMMING GUIDE WITH YOUR PURCHASE!
To guarantee you real results and offer you complete support, we've included a very useful eBook with slimming recipes, diet plans and plenty of weight loss tips and tricks. Weight loss doesn't get any easier than this! Our team of scientists have found a groundbreaking product that helps tackle extra inches on the waistline! Thanks to NightBurn XXL and the power of the purest Garcinia Cambogia on the market, you can now burn more fat!
Quadruple effect on night-time weight loss
improved sleep + curbed appetite + healthier liver + optimised fat burning rate
Or in other words, the perfect combination to help with battling excess weight on all fronts.
1. CATCHING THE Zs: NightBurn doesn't contain any caffeine and can even help you fall asleep more easily and sleep better. A well-rested body craves less low-calorie snacks and can burn fat faster!
2. STOP CRAVINGS: Garcinia Cambogia helps beat evening hunger pangs and urges to raid the fridge. This will help you fall asleep faster and keep your daytime weight-loss mission right on track.
3. KEEP THE LIVER IN SHAPE: The liver is the ultimate fat-burning machine. If overwhelmed, it doesn't function the way it should, which could result in a minimised fat-burning rate. NightBurn helps keep the liver in good shape to ensure the best possible results.
4. SAY GOODBYE TO FAT: With an outstanding combination of water-soluble fibre, Garcinia Cambogia extract and vitamin B6, NightBurn XXL prevents the storing of fats and stimulates the fat-burning process.
THE RESULTS ARE TELLING
People from all over the world swear by it. Read some of their stories and see what they have to say. "I was no longer hungry when watching the telly at night"
NightBurn XXL helped her beat the hidden enemy that only comes out when we least expect it - evening hunger. "At the beginning, I was worried I'd be hungry, especially in the evening. While watching TV in the evening, I usually became hungry quite fast. But with NightBurn XXL, the complete opposite happened - I felt less hungry in the evenings!" says Tammy.
"More energy, better sleep, faster weight loss"
Brigitte noticed a difference within days: she had more energy and wasn't as tired during the day. This is of key importance when we're trying to lose weight. It's proven that quality sleep can positively affects hunger and reduces overeating. Brigitte also noticed other benefits: "I slept better, didn't sweat as much and slept more peacefully."
DID YOU KNOW THAT BAD QUALITY SLEEP SLOWS DOWN WEIGHT LOSS?
Research shows that people who sleep well can lose weight more easily than people who don't. Therefore, those who are sleep-deprived often have serious trouble slimming down.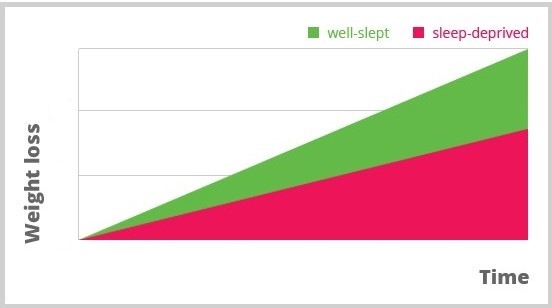 Lack of sleep can quickly result in an increased production of hormones that influence the food intake, especially ghrelin, also known as the hunger hormone, and leptin, the satiety hormone. This usually shows in the body craving fatty and sugary foods and not feeling the signals of being full, which often leads to overeating. With the metabolic rate slowed down, it is particularly difficult to keep those calories from turning into fat.
See the shocking facts!
Numerous studies show that those who are sleep-deprived:
are more likely to gain extra pounds
find it more difficult to shed fat compared to those who are well-rested
only manage to lose 45% of the weight that those who are well-rested can lose
And there's more. 60-80% of the energy your body needs during sleep comes from fats. The shorter your sleep, the slower your fat-loss process.
With 800 mg of the best Garcinia Cambogia on the market, this fat-burning drink is designed to help intensify the night-time fat-burning process and helps suppress hunger. As a result, the effects of dieting and exercising throughout the day are boosted! helps improve sleep and helps burn fat faster helps reduce the urge for night-time snacking
Can accelerate digestion Helps the liver get a good night's rest for optimum regeneration
READY FOR A CHANGE?
Because with NightBurn XXL, that's exactly what you'll get. Its 4-in-1 action will finally make it possible for you to burn more fat without disturbing your sleep. It doesn't get any better than that!
Contents: 10 sachets for 10 nights
Food supplement
Helps stimulate digestion and eliminate toxins
Can help reduce the absorption of cholesterol and triglycerides from food and increase their elimination
Helps prevent accumulation of fats in the blood (and consequentially in the liver and stomach area)
Helps increase satiety
Can prevent bouts of evening hunger
Helps contribute to digestive health
Does not cause gas
Is interconnected with vitamins of B-complex that are a necessary element in getting energy from the food we eat
Is helpful for a healthy liver – liver has a key role in fat digestion
Is necessary for the metabolism and transport of fats throughout the body
Helps establishes a balance in the body that's necessary for healthy weight loss
Helps prevent fat accumulation in the body
Helps suppress hunger and the urge for evening snacks
Helps prevent fat accumulation with its high content of special phytonutrients anthocyanin and vitamin C
Helps stabilise blood sugar levels and prevents hunger pangs
Has a relaxing and calming effect
Can improve sleep quality
Helps regulate digestion
Can contribute to night-time fat burning
Ensures digestive enzyme function
Plays a role in production of the 'sleep hormone' melatonin and helps ensure deep regenerative sleep
Helps relaxe the muscles and consequently the whole body
Has an anti-stress effect
When combined with calcium, contributes to peaceful and uninterrupted sleep
Helps increases fat burning
Food supplement
Ingredients:
Chicory inulin with 86% soluble dietary fibres – 3,000 mg; corn dextrin with 82-88% soluble dietary fibres – 2,000 mg; calcium L-pidolate (calcium – 200 mg (25% NRV*)); tri-magnesium dicitrate, anhydrous (magnesium – 187.5 mg (50% NRV*)); garcinia cambogia extract with 60% hydroxycitric acid – 800 mg; choline bitartrate – 400 mg; elderberry fruit extract – 280 mg (with 50% vitamin C – 140 mg (175% NRV*)); lemon balm leaf extract with 15% hydroxycinnamic acid and 7% rosmarinic acid – 200 mg; natural lime flavour; lemon fruit concentrate powder, camomile flower extract – 100 mg; acidity regulator: citric acid; anti-caking agent: rice concentrate; sweetener: sucralose; vitamin B6 – 5.6 mg (400% NRV*)
*NRV = nutrient reference values
How to use:
The recommended daily intake is 1 sachet dissolved in a glass of water before sleep.
Warning:
If you are hypersensitive or allergic to any of the product ingredients or use medication, consult your doctor before use. This product is not recommended for pregnant or breastfeeding women.
Important:
The recommended daily intake should not be exceeded. Dietary supplements should not be used as a substitute for a varied, balanced diet and a healthy lifestyle, which are important.
Storage:
Keep out of the reach of children! Store in a dark, dry place at temperatures below 25°C.
NightBurn XXL OLD