SlimJOY Capsules + WaterOut STRONG FREE
SlimJOY Capsules assist the thyroid in kick-starting weight loss and help decrease calorie absorption from food.
WaterOut STRONG will reduce water weight and flush toxins out of the system. It can also help reduce the feeling of heavy legs.
Try it now and see the results for yourself!
30-Day Money-Back Guarantee
Buy
Try
Return
Money back
If for any reason you are not completely satisfied, simply return the empty package and get a full refund.
Contents: 10 sachets of WaterOut STRONG + 60 SlimJOY Capsules
An under-active thyroid can often make weight loss seem like an impossible task. Iodine in SlimJOY Capsules helps stimulate thyroid function while enzyme blockers decrease the absorption of fat and sugars. At the same time, WaterOut STRONG helps get rid of excess water and toxins.
The combination of WaterOut STRONG and Slimjoy Capsules can:
help stimulate thyroid function
help accelerate metabolism
reduce absorption of sugars and fat from food
help stimulate elimination of excess water and toxins
PROVEN WEIGHT-LOSS RESULTS
Studies have shown that SlimJOY products have helped customers:
see a positive change in thyroid functionality
improve weight loss efforts reduce the circumference of stomach and hips
decrease water weight
Premium Ingredients
All plant extracts in our ingredients are manufactured with the highest quality and safety standards in modern European production facilities.
SlimJOY products only use the best ingredients with proven effectiveness. SlimJOY Capsules:
These weight-loss pills are rich in iodine that helps stimulate thyroid function. They are designed to block enzymes lipase and amylase. This means that the body absorbs less fat and carbs from consumed food.
Reducing overall sugar and fat absorption can result in steadier blood sugar levels and a decrease in appetite.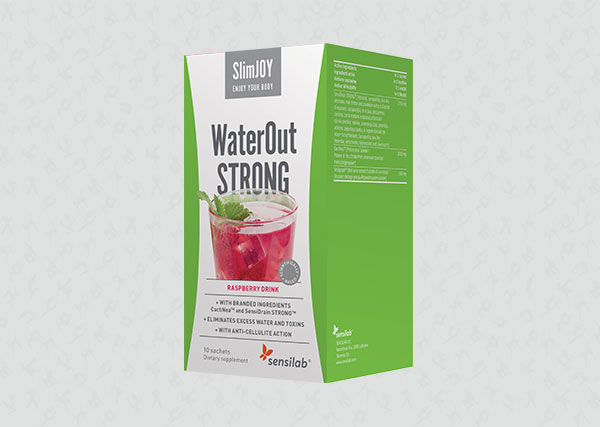 WaterOut STRONG: Helps get rid of excess water and toxins!
Did you know that water retention gives the appearance of fat, even though it's just water? WaterOut STRONG can reduce the circumference of the waist, ankles and calves. It also relieves the body of extra water weight quickly and safely.
Contents: 10 sachets of WaterOut STRONG + 60 SlimJOY Capsules
Food supplement
Ingredients:
WaterOut STRONG: Prickly pear fruit powder with 0.05% betalains and 0.03% indicaxanthin, horsetail aerial parts extract, carrier: corn dextrin, sarsaparilla root extract, Java tea leaf extract with 2% potassium, raspberry fruit juice concentrate powder, natural raspberry flavour, acidity regulator: citric acid, artichoke leaf extract with 2-5% cynarin, milk thistle dried fruit extract, dandelion root extract with 3-5% chlorogenic acid and 12% inulin, red whole grape extract with 75% total polyphenols and 50% OPC (content of sulphites >10 mg/kg), anti-caking agent: rice concentrate, sweetener: sucralose.
SlimJoy Capsules: Cinnamon bark extract, ID-alGTM [brown seaweed and grape seeds extracts with 100 – 330 ppm iodine] (content of sulphites >10 mg/kg), red vine leaf extract with 30% total polyphenols (content of sulphites >10 mg/kg), zinc gluconate, nicotinamide, anti-caking agent: rice concentrate, chromium picolinate, capsules: hydroxypropyl methylcellulose.
Use:
WaterOut STRONG: Dissolve 1 sachet a day in 1 litre of water and drink over the course of the morning. We recommend drinking plenty of fluids throughout the day.
SlimJoy Capsules: The recommended intake is 1 capsule twice a day with a glass of water before main meals.
Warning:
If you are hypersensitive or allergic to any of the product ingredients or use medication, consult your doctor before use. This product is not recommended for pregnant or breastfeeding women.
Important:
The recommended daily intake should not be exceeded. Food supplements should not be used as a substitute for a varied, balanced diet and a healthy lifestyle, which are important.
Storage:
Keep out of the reach of children! Store in a dark, dry place at temperatures below 25°C.
SlimJOY Capsules + WaterOut STRONG FREE