Adiposlim XXL + Nightburn XXL Bundle
Clinically-proven results with no yo-yo effect.
Increased fat burning
Less fat on the stomach
Longer effects on fat burning
Suppressed evening hunger
Optimised night-time fat burning whilst sleeping like a baby
100% Guarantee!
Each body is different. If you don't love this product as much as our customers do, you'll get a full refund.
All our products come with a 100% money-back guarantee, which means that if after completing the course of the product, you do not see any visible results, we will give you a full refund.

Please do not throw away empty boxes or receipts as they're important for the reclamation process. Read more here.
Content: 30 capsules of AdipoSlim XXL + 10 sachets of NightBurn XXL.
Stimulate brown fat adipose tissue and burn extra calories every day! Then go to bed and continue your lucky streak whilst you sleep. The perfect combination for people with no time to lose!
EFFICIENT WEIGHT LOSS
Clinical studies have shown that people who used AdipoSlim XXL and NightBurn XXL have: IMPROVED SLEEP AND BURNED FAT
REDUCED WAIST SIZE
AVOIDED THE DREADED YO-YO EFFECT BURNED MORE FAT
The perfect combo to make you burn fat - day and night!
In order to make every minute of your day (and night) count, we've put together our two brand-new products. One will take care of you during the day and the other will make sure you don't undo your daytime efforts at night.
All extracts have been produced according to the highest standards of quality and safety in modern manufacturing plants in Europe.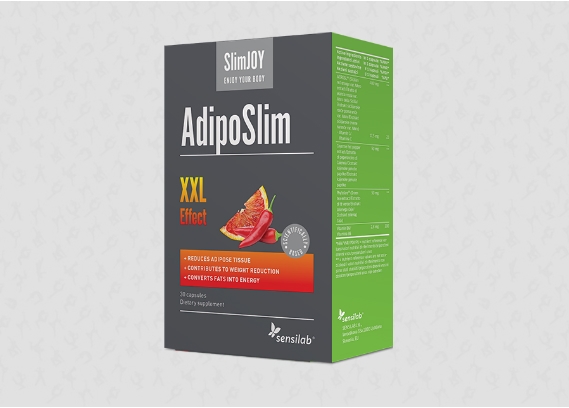 AdipoSlim XXL - turn your body into a fat-burning machine!
AdipoSlim with XXL Effect has a proven effect on burning existing fat as well as blocking new fat formation. It targets visceral fat and can decrease your stomach fat. It also stimulates brown fat tissue which can burn extra calories every day. The 3 patented ingredients make AdipoSlim XXL stronger than similar products.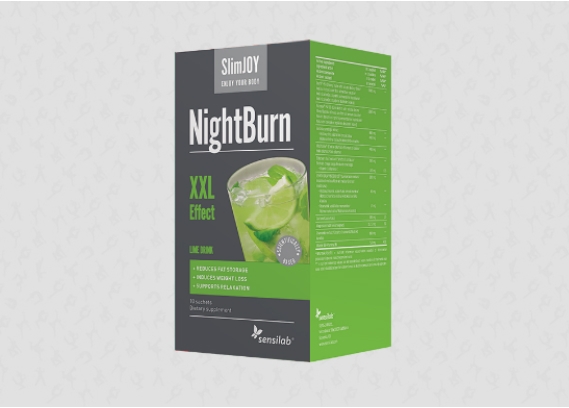 NightBurn XXL - beat evening cravings and burn fat whilst you sleep!
Numerous studies have shown the power of deep sleep and its effects on weight loss. During sleep, your body mainly uses fat for energy (most of energy used during the night is from fat). NightBurn XXL intensifies this process and enables you to sleep better and lose more weight. It also helps your liver and a happy liver burns more fat! "I was no longer hungry when watching the telly at night"
With the help of Garcinia Cambogia, NightBurn XXL helped her beat the hidden enemy that only comes out when we least expect it - evening hunger. "At the beginning, I was worried I'd be hungry, especially in the evening. Whilst watching TV in the evening, I usually became hungry quite fast. But with NightBurn XXL, the complete opposite happened - I felt no hunger in the evening at all!" says Tammy.
Tammy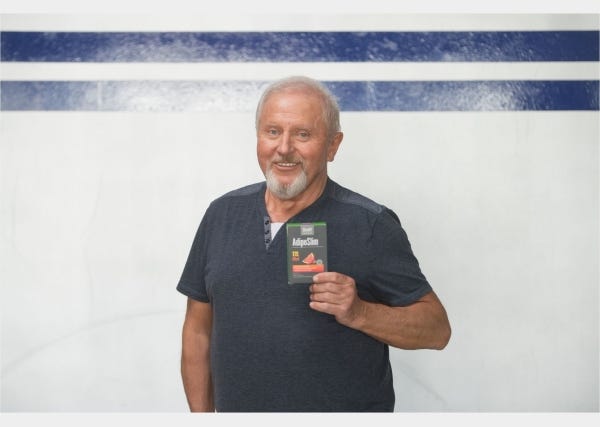 "I was losing over 2 pounds per week!"
When Leo started his SlimJOY XXL experience, he lost 5 pounds in the first two weeks. This made him proud of himself and gave him motivation to stay on track. Capsules AdipoSlim with XXL Effect played a key role in this success. They can reduce stomach fat by half and prevent new fats from forming. " 2.5 pounds in one week was my best result. I've run out of belt holes! That's success with a capital S," Leo gushes.
Leo
Content: 30 capsules of AdipoSlim XXL + 10 sachets of NightBurn XXL.
Food supplement
Ingredients:
Capsules AdipoSlim XXL (in 1 capsule): Sicilian red orange fruit var. Moro extract – 400 mg (with 4.3-4.5% of Vitamin C – 17.5 mg (22% NRV*)), cayenne hot pepper fruit extract -50 mg, green tea leaf and bud extract with 95% total polyphenols, 42% EGCG and 6% caffeine – 50 mg, anti-caking agent: rice concentrate, vitamin B6 – 2.8 mg (200% NRV*), capsules: hydroxypropyl methylcellulose.
NightBurn XXL (in 1 sachet): Chicory inulin with 86% soluble dietary fibres – 3,000 mg; corn dextrin with 82-88% soluble dietary fibres – 2,000 mg; calcium L-pidolate (calcium – 200 mg (25% NRV*)); tri-magnesium dicitrate, anhydrous (magnesium – 187.5 mg (50% NRV*)); garcinia cambogia extract with 60% hydroxycitric acid – 800 mg; choline bitartrate – 400 mg; elderberry fruit extract -280 mg (with 50% vitamin C – 140 mg (175% NRV*)); lemon balm leaf extract with 15% hydroxycinnamic acid and 7% rosmarinic acid – 200 mg; natural lime flavour; lemon fruit concentrate powder, camomile flower extract – 100 mg; acidity regulator: citric acid; anti-caking agent: rice concentrate; sweetener: sucralose; vitamin B6 – 5.6 mg (400% NRV*).
*NRV = nutrient reference values
Use:
Capsule AdipoSlim XXL: The recommended daily intake is 1 capsule a day with a glass of water after a meal of your choice.
NightBurn XXL: The recommended daily intake is 1 sachet dissolved in a glass of water before bedtime.
Warning:
If you are hypersensitive or allergic to any of the product ingredients or use medication, consult your doctor before use. This product is not recommended for pregnant or breastfeeding women.
Important
The recommended daily intake should not be exceeded. Dietary supplements should not be used as a substitute for a varied, balanced diet and a healthy lifestyle, which are important.
Storage
Keep out of the reach of children! Store in a dark, dry place at temperatures below 25°C.