15-day Slimming Programme
This bundle combines two incredible products to help you:
burn fat even when you're resting
get rid of bloating and puffiness
substantially reduce the size of your waist, hips and thighs
100% Guarantee!
Each body is different. If you don't love this product as much as our customers do, you'll get a full refund.
All our products come with a 100% money-back guarantee, which means that if after completing the course of the product, you do not see any visible results, we will give you a full refund. Please do not throw away empty boxes or receipts as they're important for the reclamation process. Read more here.
Contents: 10 sachets of WaterOut STRONG + 15 sachets of BootBurn ACTIVE XXL
Are you only just beginning your weight-loss transformation? Or maybe has your weight-loss progress hit a wall? Does stubborn fat still cling to your problem areas? Are you waking up bloated and puffy? Kill two birds with one stone! Find out how below.
The powerful combination of WaterOut STRONG and BootBurn ACTIVE XXL will:
eliminate excess water and toxins that often block or slow down effective weight loss
help you burn more fat at a faster rate, making exercise highly effective
reduce the size of your waist, calves and ankles
raise your energy levels and make you feel lighter
The 15-day Slimming Programme has changed my life "I wanted to feel happy in my own skin. I had nothing to lose. With these two weight-loss drinks, I no longer feel the urge to snack between meals. They are really amazing products! I would recommend them to anyone who wants to lose weight quickly.
I can finally wear clothes I had not worn for a long time. I am one size smaller and I feel fantastic! When your husband tells you that you are even more beautiful than before, you feel truly amazing! Even my colleagues and relatives have noticed the change and this gives me motivation to go on."
- Lucy
Get real results
Clinical studies show that people using SlimJOY:
Lose weight
Substantially reduce the size of their waist, ankles and calves
Experience weight loss at a faster rate Burn more fat
The perfect combo to give you that extra push!
In order to give you those top results you deserve, we are committed to using only top ingredients. All the extracts used were manufactured in accordance with the highest quality and safety standards in modern European production facilities.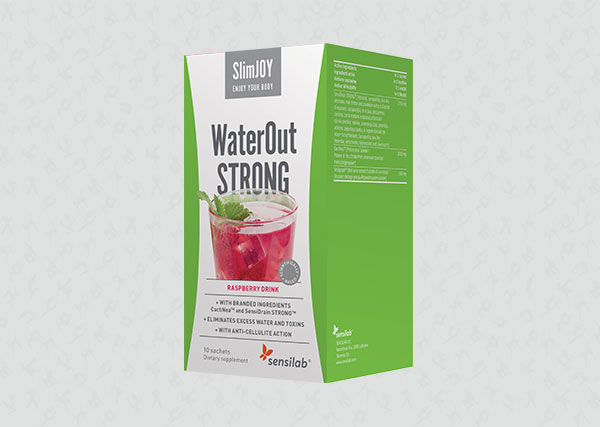 WaterOut STRONG - natural diuretic that kick-starts the weight-loss process and detoxifies your body
Clinical studies have shown that consumers lost significant amounts of water weight during the first phase of WaterOut STRONG: it eliminated excess water, cleansed their liver and stimulated their lymphatic system. Alongside parsley, artichokes, milk thistle and java tea extracts, this natural blend contains CactiNea™ and SensiDrain™ that have impressed 80% of our customers. The safest and most essential detox for your body!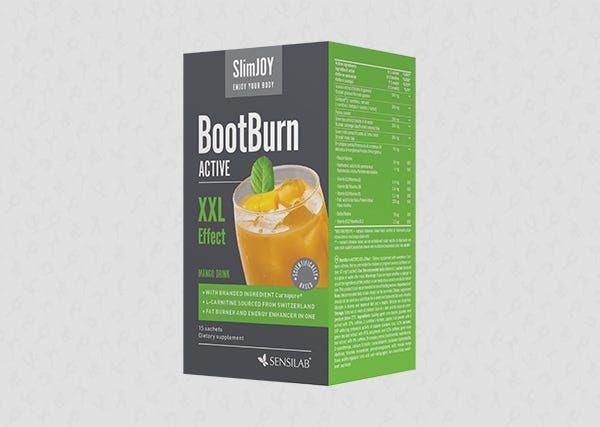 BootBurn ACTIVE XXL - Carnipure™ powered fat-burner with the purest form of L-carnitine
BootBurn ACTIVE XXL slightly raises the body's internal temperature and accelerates fat burning. It increases the effectiveness of your exercise and speeds up your results. It also contains natural ingredients such as guarana seed, mate tea and green tea extracts to boost your metabolism and increase the rate of fat burning, as well as vitamin B complex to naturally improve your energy levels.
Contents: 10 sachets of WaterOut STRONG + 15 sachets of BootBurn ACTIVE XXL
Dietary supplements
Ingredients:
WaterOut STRONG: Prickly pear fruit powder with 0.05% betalains and 0.03% indicaxanthin, horsetail aerial parts extract, carrier: corn dextrin, sarsaparilla root extract, Java tea leaf extract with 2% potassium, raspberry fruit juice concentrate powder, natural raspberry flavour, acidity regulator: citric acid, artichoke leaf extract with 2-5% cynarin, milk thistle dried fruit extract, dandelion root extract with 3-5% chlorogenic acid and 12% inulin, red whole grape extract with 75% total polyphenols and 50% OPC (content of sulphites >10 mg/kg), anti-caking agent: rice concentrate, sweetener: sucralose.
BootBurn ACTIVE XXL: Bulking agent: corn dextrin, guarana seed extract with 10% caffeine – 500 mg, L-carnitine L-tartrate – 500 mg, papaya fruit powder with 6 USP units/mg proteolytic activity of papaine (contains max. 0.1% lactose) – 250 mg, green tea leaf extract with 95% polyphenols and 0.5% caffeine – 200 mg, green mate leaf extract with 8% caffeine – 200 mg, natural mango flavour, B-complex premix [vitamin B3 (nicotinamide) – 16 mg (100% NRV*); maltodextrin; vitamin B5 (D-pantothenate, calcium) – 6 mg (100% NRV*); vitamin B7 (D-biotin) -50µg (100% NRV*); vitamin B12 (cyanocobalamin) – 2.5 µg (100% NRV*); vitamin B6 (pyridoxine hydrochloride) – 1.4 mg (100% PDV*); vitamin B2 (riboflavin) – 1.4 mg (100% NRV*); vitamin B1 (thiamine mononitrate) – 1.1 mg (100% NRV*); vitamin B9 (pteroylmonoglutamic acid) – 200 µg (100% NRV*)] – 50 mg, acidity regulator: citric acid, anti-caking agent: rice concentrate, sweetener: sucralose. *NRV= nutrient reference value
USE:
WaterOut STRONG: Dissolve 1 sachet a day in 1 litre of water and drink over the course of the morning.
BootBurn ACTIVE XXL: 1 sachet a day in a glass of water after a meal.
WARNING:
If you are hypersensitive or allergic to any of the product ingredients or use medication, consult your doctor before use. This product is not recommended for pregnant or breastfeeding women.
IMPORTANT:
The recommended daily intake should not be exceeded. Dietary supplements should not be used as a substitute for a varied, balanced diet and a healthy lifestyle, which are important.
STORAGE:
Keep out of the reach of children! Store in a dark, dry place and at temperatures below 25°C.